Dear valued Clients & trusted Partners,
We are thrilled to share with you an exciting collaboration between THE LAM LAW LLC and Foreign Trade University, Ho Chi Minh City Campus (FTU HCMC). This strategic partnership aims to create enhanced opportunities and foster development for both organizations, bringing immense benefits to our students, faculty, and the broader community.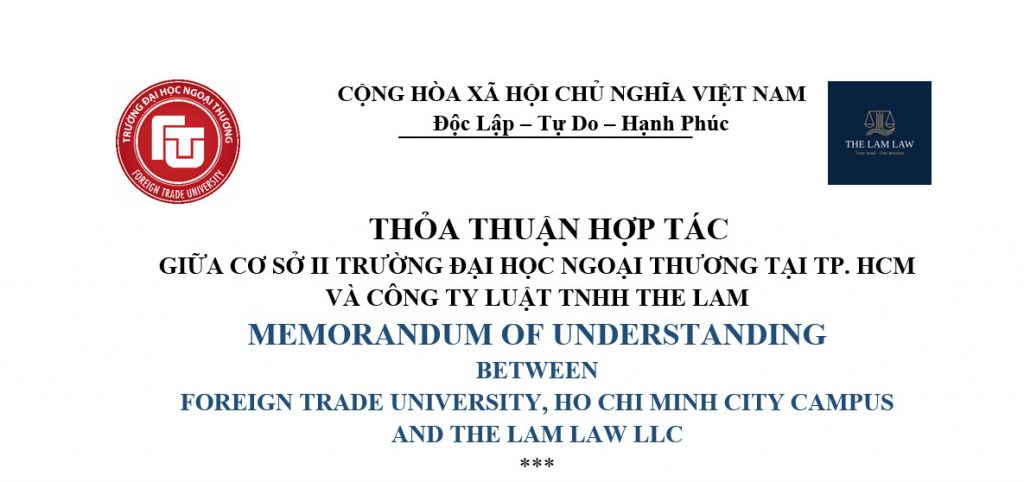 Our collaboration with FTU HCMC signifies a significant step towards nurturing talent and building a strong foundation for comprehensive cooperation. Together, we will establish a robust framework to develop human resources, promote knowledge exchange, and drive innovation. By combining the expertise and resources of both parties, we aim to cultivate a vibrant environment that fosters growth and excellence.
Through this partnership, THE LAM LAW LLC will provide valuable support, including opportunities for FTU HCMC students to engage in practical experiences, internships, and research projects. We will also facilitate expert knowledge sharing sessions, offering insights into the real-world practices and challenges within the legal field. Additionally, FTU HCMC will actively promote THE LAM's brand and career opportunities through their official platforms, enabling us to connect with talented individuals seeking rewarding professional journeys.
We believe that this collaboration will empower our students and professionals to excel in their careers, broadening their horizons and equipping them with the necessary skills for success in today's dynamic world. Together, we will create a positive impact, driving growth and innovation within the legal and academic communities.
We extend our heartfelt gratitude to the leadership of FTU HCMC and all those involved in making this collaboration a reality. We are excited about the endless possibilities that lie ahead and look forward to the fruitful outcomes that this partnership will bring.
Sincerely./.
---
THE LAM LAW LLC
Office: Indochina Park Tower, 04 Nguyen Dinh Chieu Street, Dakao Ward, District 1, Ho Chi Minh City, Vietnam
Facsimile: 028 6288 3798 Hotline: 0973 097 777
Email: info@thelamlawllc.com